Event Planning. Plan Easy. Party Hard. It's That Simple.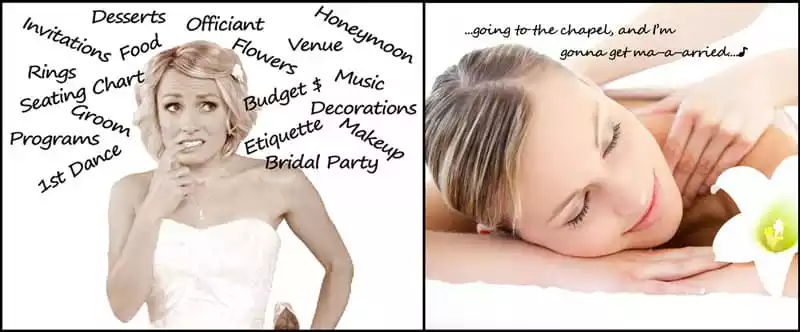 Ask yourself one question……Which bride do you want to be?
Our responsibilities include:
Finding a location
Scheduling appointments
Helping with wedding attire
Selecting vendors
Schedule wedding day needs and events
Reviewing contracts
Vendor collaboration
Answering emails, phone calls, questions to remain on schedule
Event Planning - Wedding Package
Our Full-Service Wedding Planning Package includes everything needed to organize a beautiful and exciting wedding. Events Your Way will help you through the entire planning process, finding everything you need from beginning to end.
Wedding planning really is a full-time job outside of your full-time job. Hiring a professional wedding planner allows for everything to be taken care of for you at the highest professional standard. We'll work our magic to help every step of the way. We'll help get you the best prices, choose professional vendors, stay on budget and make sure everything happens as planned. The only thing left for you to do is look forward to and enjoy your wedding day.
Event planning package and hourly rates are available.
Day Of Wedding Coordination
Our Day of Wedding Planning Package includes the final step in planning your perfect wedding. This is perfect for those soon-to-be newlyweds who want to plan everything themselves, but come the day of the wedding, want someone to take over so they can enjoy their wedding day.
How it works:
Towards the end of your wedding planning process, we step in and take over. We ask that you give us your vendor names, phone numbers and all pertinent information that will help us coordinate everything from that point forward. We'll contact all your vendors, make any last-minute arrangements and send you on your way to prepare for that walk down the aisle.
The Big Day:
On the wedding day, we arrive as scheduled to handle all vendors, set up details and answer any questions anyone may have. We perform the usual wedding coordinator duties such as gathering the bridal party, passing out flowers, assisting the bride, groom, parents and bridal party in any way. Our main goal is to be sure that you are relaxed and stress free. We will also help coordinate the rehearsal of the ceremony and run through everything to ensure your highest level of comfort.
Corporate and Event Coordination
We have rentals, vendor resources and plenty of experience.  Your time is more valuable than you think. You will spend 10x more time searching for the right vendor for you event.
Allow us to do the work and let you take the credit.
Experience counts. Hire a professional.
Pretty much the same reason your clients hire your company, just sayin'.
Here are a few of the items to consider hiring an Event Planner for:
Our motto is Plan Easy, Party Hard for a reason. We've got the tools, contacts and experience to help you pull off the best party, ever! Call us today for your no cost (and no hassle) consultation and find out how we can keep you on budget, keep everything organized and most importantly….. take your stress away! Yeah, we can do that too!
Contact us to Plan easy. Party hard.
PartyMasterz Pricing Menu Request