Many of our favorite moments showcased in our video gallery. These are not just moments, these are crafted movies that you'll be sharing with friends and family for years. Your highlight reel is prepared and delivered to you on USB. It's an easy way to share your event with family, friends and your favorite social media platform.
This page is intentionally kept small. We have many, many more we can show upon request.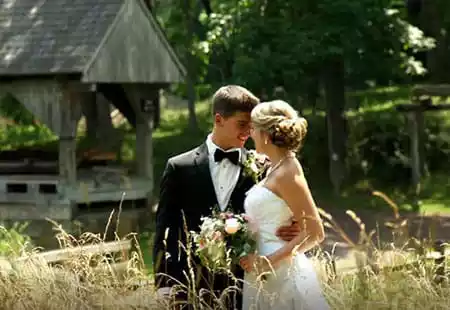 HD digital video montages are made for our clients with state of the art montage software.  Let PartyMasterz take HQ professional photos or we can use your own prints or digital photos and add them to the montage.
Click on one below to see how cool they really are.
Highlight Reels - a.k.a. Shorties
This is a collection of our Highlight Reel creations. They are shorter re-cap versions that are easily shared with friends and family.
Full Length Wedding Movies
Professional Videography memorializes any event you wish to look back on and remember the beautiful day you shared with loved ones. You can choose between having all raw footage or have a story created highlighting the special moments. A sentimental movie trailer, if you will, which you are the star of. Think about it, sitting with your children or grandchildren and reminiscing about the day you and your spouse tied the knot. Yeah, it's that awesome!
Of the hundreds of videos we have made over the years, the clients in our gallery gave us permission to use their movies. We hope you do too.
Contact us to Plan easy. Party hard.